Important fact: The success of any mold program is won or lost at the design stage.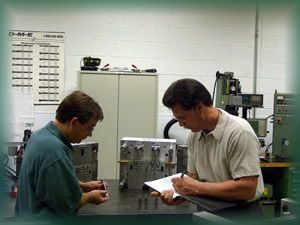 Often, when a replacement or duplicate mold is needed, a new mold is built from the previous design. Unless the previous mold is obviously such a poor performer that it begs a new design, OEM (original equipment manufacturer) engineers might make the decision to stay with a 100% replication of the previous design due to several fears/reasons. Among them:
Qualifying time and costs could exceed budget if the plastic part forms much differently in a new design and unexpected steel adjustments are necessary.
If a new design calls for a change in gate style/location, stresses may occur in areas causing downstream part failure.
It is felt not having different components in molds forming the same part would make it more economical to stock spares and easier to keep track of maintenance components in the field.
These are certainly compelling reasons for an OEM engineer to maintain status quo.
The biggest reason that OEM's might want to study the option of changing the previous design is…their own competition.
Whether or not it is actually done, the OEM who can supply his product for the lowest overall cost per unit in the industry is in the driver's seat. Each and every component within that product can potentially help or hinder that. Supplying molded parts from a tool that runs faster than the competitors' and doesn't have inherent issues that may cause it to be down when product delivery is needed is critical.
There is no better mold to look at to improve a design for performance than an existing one, because there are so many knowns. In the first two bullets listing fears above, the trademarked Mold Flow/Mold Cool software has become very reliable for help there. The effects of cooling changes, etc., as well as gate geometry/location can be accurately evaluated by a competent Mold Flow/Mold Cool technician. For the 3rd bullet, maintenance, an existing mold with maintenance issues is much easier to focus on which design iterations would be best to lessen them. Very few existing molds cannot be improved for better cycle and less down stream maintenance issues through design.