Engineering Consulting Services relating to design and manufacture of your future plastic injection molds:
Len Graham Consulting can recommend special features needed, tailored to each mold requirement and review them with you, before quoting. We can thus assure that the criteria for those features needed are stated clearly for all bidders.
Len Graham Consulting can assist in the establishing of specifications for the mold quoting process. If applicable, special features can be added to your existing company standard quoting criteria to assure all bidders quote on a level playing field and include necessary features up front. This minimizes the chance for you to be surprised by your selected mold builder in adding cost for special features not clearly specified in the RFQ (request for quote).
The hot manifold manufacturer, manifold and nozzle types can be specified in the RFQ (as needed and desired).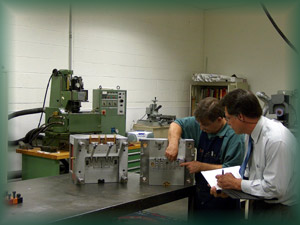 Upon request, we will also help evaluate and determine qualified moldmakers for quoting your mold build. The quoting and/or selected mold builder(s') capability can be assessed through research, i.e. phone calls to comparable buyers to check references and establish competence for the proposed program if you are uncertain of any participants. Len Graham Consulting would also travel to an unknown/unproven mold builder's location to perform an in-depth capability audit of the entire operation.
Once a mold building contract has been awarded and a concept established and approved, our consultant would further assist you and/or the mold builder until the proposed final design and details therein are deemed appropriate for the performance required.
We will, as opted, telephone conference or travel to meet with you and/or a selected mold builder to establish a final mold design concept for your approval. In more complex designs, it may be advisable for us to attain more than one workable concept to go over with you in order to establish the best approach for the final design to be used in the mold program.
If you cannot be present for any review, the concept design(s) can be presented and thoroughly explained to you, our customer, with our recommendations, for your approval.